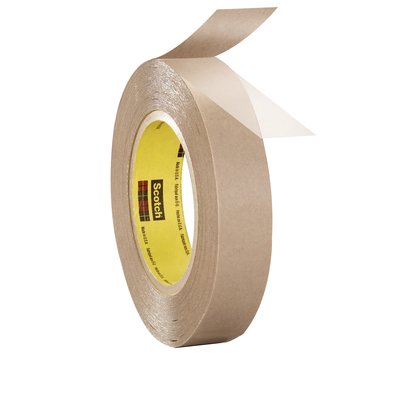 Product Description
3M™ 9832 Double Coated Tape with Adhesive 300MP is a general purpose tape that provides excellent adhesion to a wide variety of substrates, including many plastics, foams, foil, and felt. This tape is well suited for applications requiring temperature performance up to 250°F for short term exposure and up to 150°F for long term exposure. A thin polyester film carrier provides dimensional stability and improved handling.
3M 9832 tape can be used in the woodworking market on particle board, melamine, HPL, wood, plywood, vinyl, foam and more.
Product Features
• 3M™ 300MP Adhesive is a solvent free acrylic adhesive ideal for applications requiring high adhesion to a wide variety of materials, including many foams and plastics.
• Has a film carrier, which can add dimensional stability to foams and other substrates. The carrier also provides easier handling during die cutting and slitting.