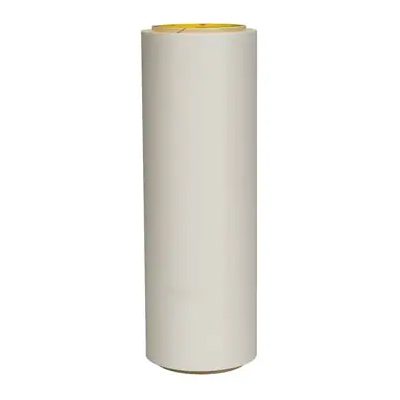 Product Description
3M™ Adhesive Transfer Tape 9775WL is designed for permanently bonding plastics, foams, wood and textiles. The adhesive easily flows into crevices and voids without the addition of heat. Minimal pressure is required. This transfer tape features 3M™ Adhesive 300MP, a high tack acrylic that delivers good initial bond and full adhesion within 48 – 72 hours.
High bond adhesive ideal for use on fabricated foams, plastics, and fabrics
Exceptional humidity, solvent, chemical and UV resistance helps bond durability
Performs at temperatures up to 250ºF/121ºC
5.0 mils (.13 mm) thick adhesive on a 7.0 mils (.19 mm), 96 lb. white polycoated kraft liner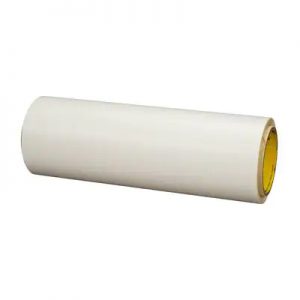 Ideal for Use on Fabricated Foams, Plastics, and Fabrics
Our 3M™ Adhesive Transfer Tape 9775WL features 5.0 mils (.13 mm) of durable adhesive mounted on a 7.0 mils (.19 mm), 96 lb. white polycoated kraft paper liner. The adhesive is designed to bond to foams, fabrics, wood and most plastic substrates. This adhesive transfer tape resists UV and features good humidity, water, solvent and chemical resistance.
Recommended Applications
Foam gaskets and general foam bonding
Bonding of textured and rough surfaces
Fabric and textile bonding including floorcovering lamination

Easily Flows into Crevices and Voids without Adding Heat
The design of 3M™ Adhesive 300MP (PDF, 11 Kb) creates a consistently strong bond across a broad range of products up to 250°F (121°C). The easy flow properties allow the adhesive to quickly bond to rough and textured substrates, including, foam, wood, textiles and more, without adding heat. The heavy polycoated kraft paper liner makes this adhesive tape ideal for die cutting and converting processes.