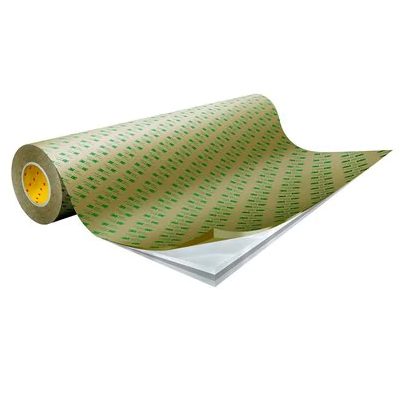 Product Description
0.012mm clear polyester carrier, 0.069mm 3M™ Adhesive 200MP with 0.11mm 58# Tan Polycoated Kraft Liner.
Outstanding adhesion to metal and high surface energy plastics with excellent shear strength to resist slippage and edge lifting, provides short term repositionability for placement accuracy
Provides outstanding adhesion to metal and high surface energy plastics.
3M performance standard, moisture stability and economical edge burr during hard tool die cutting
Double coated version of 468MP

Offers Excellent Adhesion to Metals and HSE Plastics
3M™ Double Coated Tape 92015 features 2.7 mils of 3M™ Adhesive 200MP on each side of a clear 0.5 mil polyester film carrier and a 58 lb. tan polycoated kraft liner. The tape offers high bond strength to a wide variety of dissimilar and difficult-to-bond substrates, including metals and polypropylene, HDPE and LDPE, and can be used for a variety of applications, including general purpose joining, mounting and splicing.

Recommended Applications
Attachment to plastics (ABS, PC)
Graphic overlays
Nameplates
Appliques
Decorative trim